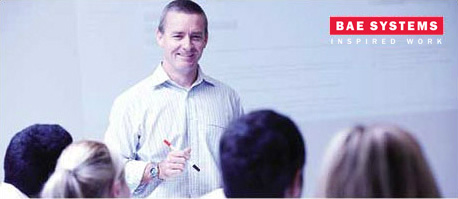 Managing large projects at BAE Systems Australia isn't for the faint-hearted. The challenges are varied, complex and testing. And they're different. Every day.
So when your ideas are listened to and you see them come to life, the experience is so much richer.
That works for me. Find out if it works for you.
Information, Communication and Technology Engineer
• Various Defence projects that require a current defence security clearance
• Use your superior networking skills on key Defence projects
• Based in Canberra, ACT
• Relocation packages available
Our Intelligence, Surveillance & Reconnaissance (ISR) business has as strong pedigree of capability delivery to our customer base. As we look forward in 2017 and beyond, we anticipate we will enjoy strong growth and interesting challenges in supporting the Department of Defence to deliver Information and Communications Technology (ICT) solutions. This program of work requires experienced ICT Engineers.
As the ICT Engineer you will be responsible for the provision of network and ICT skills into Gateways and Formal Messaging programs. You will also be responsible for assisting in all aspects of design, implementation and day to day management for the efficient operation, and continuous reliability of Gateway systems as well as Local Area Network (LAN) and Wide Area Networks (WAN) environments.
More specifically, you will:
• Assist in the design, implementation and support of Gateway systems.
• Assist in specifying, designing and implementing aspects of the WAN and LAN networks that meet or exceed industry standard best practices.
• Assist in ensuring that the network solutions and infrastructure meet the current performance, reliability, security and business requirements of the business or customer.
• Assist in ensuring the day to day stability and operation of Gateway systems to ensure compliance to service level agreements.
• Provide assistance in all aspects of project infrastructure including the following technologies: Windows software stack; VMWare; Email technologies (SMTP, POP, IMAP); configuring and scripting firewalls; SQL Server and/or Oracle DBMS; Gateway system architecture and network fundamentals
• Provide network consultancy and assistance to customers, in the design, set to work and troubleshooting of classified networks and customer deliverables.
As the ideal applicant, you will have:
• Excellent knowledge and experience in the implementation and support of Wintel based computer systems.
• Proven skills in fault finding issues within third-party software.
• Strong experience in network troubleshooting including, switching, routing, firewalls, VPN and network security.
• Experience with virtualisation technologies.
• An IT or engineering related degree.
Whilst not essential, some experience in both storage systems and VOIP is highly desirable.
An NV2 Defence security clearance is required for this role; applicants must be Australian citizens and at a minimum, currently hold NV1 and be eligible to obtain and maintain NV2 clearance.
International Traffic in Arms Regulations (ITAR) are applicable and as such, your nationality may be a factor in determining your suitability for this role.
Applications should be addressed to: Lesley Mackman, Senior HR Advisor
Please ensure you attach a current resume and copy of your relevant qualification(s) to your application. A cover letter is preferred.
Support for training and development, competitive benefits, a genuine focus on diversity and family friendly, flexible work practices are yours at BAE Systems Australia.
BAE Systems Australia employees are encouraged to refer others for employment in line with the conditions of the Employee Referral Scheme.
Further information regarding clearances is available at: https://careers.au.baesystems.com/opportunity.html
| | |
| --- | --- |
| | |