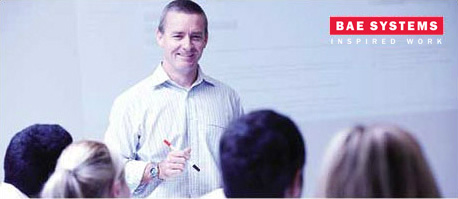 Managing large projects at BAE Systems Australia isn't for the faint-hearted. The challenges are varied, complex and testing. And they're different. Every day.
So when your ideas are listened to and you see them come to life, the experience is so much richer.
That works for me. Find out if it works for you.
RADIO FREQUENCY (RF) ENGINEER
• Defence industry leader
• Permanent and full time Radio Frequency (RF) Engineering position
• North Ryde, New South Wales location
BAE Systems Australia's core values of Trusted, Innovative and Bold underpin everything that we do. We are a global Defence and security company with wide-ranging products and services to support and protect Australia's Defence forces, as well as advanced electronics, security, information technology, and support services.
An opportunity has arisen for a driven Radio Frequency Engineer to support the Australian Military Airspace Communications and Control System (AMACCS) project. This challenging and rewarding role will be based at our North Ryde, New South Wales location, on a permanent and full time basis. Are you up for the challenge?
As a Radio Frequency Engineer, you will:
• Design and develop radio frequency systems and equipment in accordance with project requirements in order to achieve the required business performance
• Derive requirements for complex radio frequency systems and participate in system design and requirement reviews
• Transform radio frequency designs into feasible hardware implementations
• Model and remediate electromagnetic interference in radio frequency systems
• Conduct radio frequency measurements to identify interference sources, and measure and validate the performance of radio frequency systems
• Develop and write test procedures for system verification
• Undertake the integration and testing of radio frequency system designs
• Utilise design capture and analysis tools effectively to produce high quality designs and products including the interpretation of analysis results
• Undertake the full qualification of complex radio frequency systems including devising solutions to complex qualification problems and reviewing qualification plans and reports
• Potentially be required at times to attend customer sites around Australia to support installation, test and inspection activities
As an ideal applicant you will have:
• Demonstrated radio frequency engineering experience
• A tertiary level engineering degree
• Working knowledge of electrical or electronics engineering
• Excellent communication skills and the ability to influence and develop effective working relationships with a variety of stakeholders at all levels
Whilst not essential, radio frequency engineering experience within the Defence industry will be highly regarded.
As Defence security clearance is required for this role, applicants must be Australian citizens and eligible to obtain and maintain appropriate clearance.
International Traffic in Arms Regulations (ITAR) are applicable and as such, your nationality may be a factor in determining your suitability for this role.
Applications should be addressed to: Nina Burke, Recruitment Advisor. Please ensure you attach a current resume and copy of your relevant qualification(s) to your application. A cover letter is preferred.
At BAE Systems you will find support for training and development, competitive benefits and family friendly, flexible work practices in addition to a genuine commitment to diversity and inclusion.
Aboriginal and Torres Strait Islander people are encouraged to apply.
BAE Systems Australia employees are encouraged to refer others for employment in line with the conditions of the Employee Referral Scheme.
Further information regarding clearances is available at: https://careers.au.baesystems.com/opportunity.html
| | |
| --- | --- |
| | |