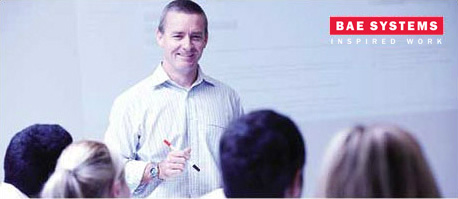 Managing large projects at BAE Systems Australia isn't for the faint-hearted. The challenges are varied, complex and testing. And they're different. Every day.
So when your ideas are listened to and you see them come to life, the experience is so much richer.
That works for me. Find out if it works for you.
HARDWARE ENGINEER
• Global defence industry leader
• Permanent and full time opportunity
• North Ryde, New South Wales
BAE Systems is Australia's most versatile Defence and Security Company. Applications are sought for a committed Hardware Engineer to work on the Satellite Communications assignment for the Australian Military Airspace Communications and Control System (AMACCS) project. You will report to the Project Engineering Manager and be based at our North Ryde, New South Wales location, on a permanent and full time basis.
As a Hardware Engineer, you will be responsible for the design and development of military Satellite Communications (SATCOM) systems and terminal equipment in accordance with contractual and company requirements.
In more specific terms, you will:
• Undertake radio frequency and electronics design activities to support SATCOM systems and Advanced SATCOM Terrestrial Infrastructure System (ASTIS) terminal equipment
• Undertake risk analysis activities on systems and equipment
• Conduct review activities of sub-contractors and supplier technical documentation
• Determine radio frequency testing and certification requirements
• Develop and execute system tests which will ensure that the system conform to its specifications
• Develop and maintain support system documents including work instructions and publications
• Undertake the integration and validation of systems and equipment design including contributing to the integration and validation plans and reports
• Occasionally support installation, test, and inspection activities on customer sites around Australia
As the ideal candidate, you will have:
• Demonstrated experience with military satellite communication systems, electronics engineering or radio frequency engineering
• Demonstrated ICT engineering experience including Internet Protocols, router configuration and networks
• Tertiary level engineering qualification in a relevant discipline
• Practical thinking skills with the ability to fault find and diagnose issues
As Defence security clearance is required for this role, applicants must be Australian citizens and eligible to obtain and maintain appropriate clearance.
International Traffic in Arms Regulations (ITAR) are applicable and as such, your nationality may be a factor in determining your suitability for this role.
Applications should be addressed to: Hany Hafez, Recruitment Advisor.
Please ensure you attach a current resume and copy of your relevant qualification(s) to your application. A cover letter is preferred.
At BAE Systems you will find support for training and development, competitive benefits and family friendly, flexible work practices in addition to a genuine commitment to diversity and inclusion.
Aboriginal and Torres Strait Islander people are encouraged to apply.
BAE Systems Australia employees are encouraged to refer others for employment in line with the conditions of the Employee Referral Scheme.
Further information regarding clearances is available at: https://careers.au.baesystems.com/opportunity.html
| | |
| --- | --- |
| | |