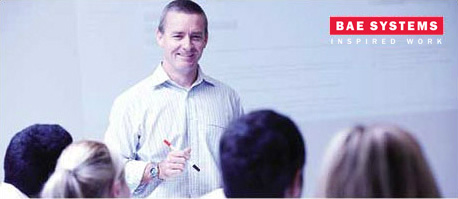 Managing large projects at BAE Systems Australia isn't for the faint-hearted. The challenges are varied, complex and testing. And they're different. Every day.
So when your ideas are listened to and you see them come to life, the experience is so much richer.
That works for me. Find out if it works for you.
Combat System Manager
• Accomplished Engineering Portfolio Manager required for major Defence program
• Agile, innovative and consultative approach required
• Garden Island, Sydney location
The future is bright at BAE Systems. We have been selected as the Managing Contractor for the designated Guided Missile Destroyer (DDG) sustainment program.

This is a unique and exciting opportunity to be a part of an innovative solution. We are building something great, a model for the future, and a new standard of excellence.
Highly collaborative and agile in approach, we are engaging, consultative and solutions focused; we are looking for likeminded professionals to join our team.
As a member of our team, you'll enjoy competitive benefits, family friendly and flexible work practices, interesting work, unique career development opportunities and a culture that is built on trust, teamwork and pride in what we do.
We are pleased to welcome applications from experienced Combat Systems Managers.
Using a combination of technical excellence and strong leadership skills, you will be responsible for the delivery of engineering outputs of the project in line with quality, cost and schedule requirements in accordance with approved company processes and agreed operational needs of the customer. Your tactical plans will ensure correct technical execution of the project.
You contribution to the team will include:
• Leading a team of multi-disciplined engineers and technical officers to deliver packages of engineering work in a timely and efficient manner to meet agreed performance targets
• Ensuring all documents and artefacts generated by the team are completed, reviewed and managed in accordance with appropriate standard procedures and work instructions
• Enabling and facilitating the development of engineering change scopes of work
• Providing engineering advice to Technical Authorities, Technical Support Network and other stakeholders as necessary
• Undertaking engineering activities within own competence without day to day guidance or supervision, including liaison with the customer and suppliers as appropriate
• Managing resources to deliver stability management and certification support activities
• Work within the customer's Technical Regulatory Frameworks set out by engineering management, capability developers and domain experts
As the ideal applicant, you will have:
• Extensive experience in a similar role preferably within the Defence sector related to complex system integration and combat systems
• Tertiary qualifications in a relevant engineering discipline and membership of Engineers Australia
• Demonstrated experienced in the development and execution of strategic plans relating to product development
• Highly developed interpersonal skills and the ability to adapt your verbal and written styles to suit a variety of audiences
• A proven track record in leading effective and high performing teams
• Highly developed analytical and problem solving abilities
• The ability to build effective relationships with internal and external stakeholders to achieve business objectives
As Defence security clearance is required for this role, applicants must be Australian citizens and eligible to obtain and maintain appropriate clearance.
International Traffic in Arms Regulations (ITAR) are applicable and as such, your nationality may be a factor in determining your suitability for this role.
Applications should be addressed to Donna Dittmar, Recruitment Specialist.
Please ensure you attach a current resume and copy of your relevant qualification(s) to your application. A cover letter is preferred.
At BAE Systems you will find support for training and development, competitive benefits and family friendly, flexible work practices in addition to a genuine commitment to diversity and inclusion.
Aboriginal and Torres Strait Islander people are encouraged to apply.
BAE Systems Australia employees are encouraged to refer others for employment in line with the conditions of the Employee Referral Scheme.
Further information regarding clearances is available at: https://careers.au.baesystems.com/opportunity.html
| | |
| --- | --- |
| | |