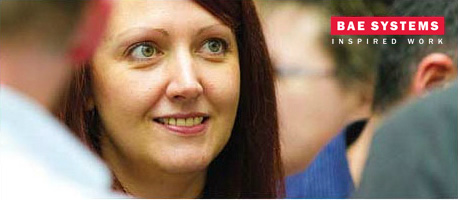 Working at BAE Systems Australia is a quick way to grow my career; different experiences, a variety of challenges and the chance to put my skills to the test.
However, the main reason it works for me is the lifestyle. It's friendly, flexible, accommodating and focused on my personal growth.
That works for me. Find out if it works for you.
Cost Base Accountant
• Provide financial support to our Facilities team
• Use your influencing skills in this key role
• Based in head office at Edinburgh Parks, SA
At BAE Systems it's not what we do, but how we do it. We have a strong team culture, commitment to values and competitive benefits. As a result of an internal promotion, BAE Systems require an experienced Cost Base Accountant.
As the Cost Base Accountant, you will be responsible for providing financial support and advice to Facilities to meet both internal and external reporting requirements.
In terms of more specific responsibilities, you will:
• Support the Function Head and Function Director with the enterprise wide Facilities reporting model
• Work as key member of Facilities Lead Team contributing to Finance and Facilities strategy plans
• Develop business cases to support the enterprise wide Facilities plan
• Assume the financial responsibility for departments within the Central Facilities and Commercial & Procurement functions
• Prepare monthly financial reports of actual/budget variance analysis
• Review actual numbers against budget and in comparison to the full year forecast for reasonableness and follow up on large variances prior to submission
• Review and challenge the appropriateness of forecasts/spend to date at monthly meetings with the functions, develop corrective actions plans with them and ensure these are followed up
• Provide support to the Head of Function and Function Director in the consolidation and preparation of information for the company's integrated business plan and review and challenge the sub-plans submitted to ensure they are in line with the company strategy
• Provide data for direct recharge allocations and assist in completion of recharge analysis and in addressing queries from the business
• Review and challenge capital budgets
• Account for capital assets, depreciation and amortisation
As the ideal applicant you will have:
• Strong experience in accountancy roles
• Proven experience and ability to influence senior management
• Experience and knowledge of Excel and Oracle
• Strong communication skills both written and verbal coupled with the ability to build and maintain strong relationships with key stakeholders
• A degree qualification and a CPA or CA qualification
As Defence security clearance is required for this role, applicants must be Australian citizens and eligible to obtain and maintain appropriate clearance.
Applications should be addressed to: Lesley Mackman, Senior Recruitment Specialist
Please ensure you attach a current resume and copy of your relevant qualification(s) to your application. A cover letter is preferred.
At BAE Systems you will find support for training and development, competitive benefits and family friendly, flexible work practices in addition to a genuine commitment to diversity and inclusion.
Aboriginal and Torres Strait Islander people are encouraged to apply.
BAE Systems Australia employees are encouraged to refer others for employment in line with the conditions of the Employee Referral Scheme.
Further information regarding clearances is available at: https://careers.au.baesystems.com/opportunity.html
| | |
| --- | --- |
| | |