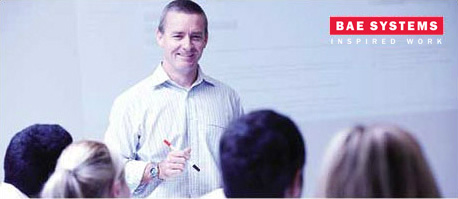 Managing large projects at BAE Systems Australia isn't for the faint-hearted. The challenges are varied, complex and testing. And they're different. Every day.
So when your ideas are listened to and you see them come to life, the experience is so much richer.
That works for me. Find out if it works for you.
INTEGRATED LOGISTICS SUPPORT (ILS) ENGINEER
* Join a company that values innovative ideas and flexible work practices
* Permanent and full time Integrated Logistics Support (ILS) Engineer position
* North Ryde, New South Wales location
BAE Systems is a global Defence and security company with wide-ranging products and services to support and protect Australia's Defence forces, as well as advanced electronics, security, information technology, and support services.
At BAE Systems we believe in giving our people inspired work now and into the future. We are seeking to appoint a dedicated Integrated Logistics Support (ILS) Engineer to support the Australian Military Airspace Communications and Control System (AMACCS) project. This key position will be based at our office in North Ryde, New South Wales and will be offered on a permanent and full time basis. Are you up for the challenge? 
As the Integrated Logistics Support (ILS) Engineer, you will:
* Conduct specialty logistics activities in accordance with the AMACCS project procedures and work instructions
* Conduct level of repair analysis, failure mode analysis, and effect and criticality analysis
* Determine the lifecycle cost modelling, spare and maintenance requirements
* Review and update technical maintenance plans
* Conduct peer review activities of technical documentation to ensure consistent high quality product output, including independent reviews contributing to the quality of plans and reports
* Undertake the validation of the design including contributing to the integration and validation plans and reports
* Undertake product change management and quality control processes
* Utilise specialty logistic tools effectively and undertake specialty logistics documentation development and verification
As an ideal applicant you will have:
* A tertiary level engineering degree
* Integrated Logistics Support (ILS) engineering skills and experience
* Self-motivation and a proactive approach to progressing all assigned tasks
Whilst not essential, experience with Omega PS, CAMM2, or MILIS maintenance and logistics management systems within the Defence industry will be highly regarded.
As Defence security clearance is required for this role, applicants must be Australian citizens and eligible to obtain and maintain appropriate clearance.
International Traffic in Arms Regulations (ITAR) are applicable and as such, your nationality may be a factor in determining your suitability for this role.
Applications should be addressed to: Kon Yiannikopoulos, HR Advisor – Recruitment & Resourcing.  Please ensure you attach a current resume and copy of your relevant qualification(s) to your application. A cover letter is preferred.
At BAE Systems, we have a strong safety, health and environmental culture; employee safety and well-being is a top priority. We also maintain a genuine commitment to diversity and inclusion and to training and development, offer competitive benefits and enjoy a family friendly work place with flexible work practices.
Aboriginal and Torres Strait Islander people are encouraged to apply.
BAE Systems Australia employees are encouraged to refer others for employment in line with the conditions of the Employee Referral Scheme.
Further information regarding clearances is available at: https://careers.au.baesystems.com/opportunity.html
SK9397A
| | |
| --- | --- |
| | |