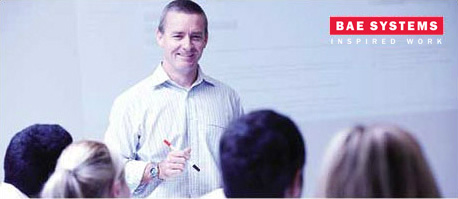 Managing large projects at BAE Systems Australia isn't for the faint-hearted. The challenges are varied, complex and testing. And they're different. Every day.
So when your ideas are listened to and you see them come to life, the experience is so much richer.
That works for me. Find out if it works for you.
DHDB Systems Administrator
Systems Administrator
Highly motivated Systems Administrator needed to join a high performing team
Interesting work on an important project
Based in Edinburgh Parks, SA
The Digital Hydrographic Database (DHDB) System was developed by BAE Systems in the early 2000's to provide the Australian Hydrographic Service (AHS) with the capability to accept and manage digital data and to enable the AHS to compile and maintain a validated, non-conflicting hydrographic data set from which all of the AHS's services can be sourced. This project needs an experienced Systems Administrator to join this high performing team.
As the Systems Administrator, you will report to the DHDB Project Engineering Manager and provide assistance in all aspects of the DHDB Infrastructure.
In terms of more specific responsibilities, you will:
Provide support for the various project operating systems (Windows 7, Windows 2008R2, RedHat Linux 6)

Maintain/administer the System's Virtual Infrastructure (VMWare)
Administer support for the Mission System, including system monitoring and deployment of software patches
Manage the system administration of the support system and development environments, including backup and restore activities, installing builds and patches and maintaining hardware
Maintain security, installation and infrastructure design documentation
Maintain network and infrastructure security requirements
Identify and analyse system obsolescence issues
Communicate with vendors to resolve technical issue
Communicate with end-users to provide efficient support
As the ideal applicant you will have:
Sound experience within the Information, Communication and Technology (ICT) discipline
A certificate or diploma courses in Information Technology (IT) with an emphasis on IT Support or Systems Administration
A strong client focus and a desire to assist others
The ability to analyse problems quickly and skilfully
A methodical and disciplined approach
As Defence security clearance is required for this role, applicants must be Australian citizens and eligible to obtain and maintain appropriate clearance.
International Traffic in Arms Regulations (ITAR) are applicable and as such, your nationality may be a factor in determining your suitability for this role.
Applications should be addressed to: Lesley Mackman, Senior Recruitment Specialist
Please ensure you attach a current resume and copy of your relevant qualification(s) to your application. A cover letter is preferred.
At BAE Systems you will find support for training and development, competitive benefits and family friendly, flexible work practices in addition to a genuine commitment to diversity and inclusion.
Aboriginal and Torres Strait Islander people are encouraged to apply.
BAE Systems Australia employees are encouraged to refer others for employment in line with the conditions of the Employee Referral Scheme.
Further information regarding clearances is available at: https://careers.au.baesystems.com/opportunity.html
| | |
| --- | --- |
| | |