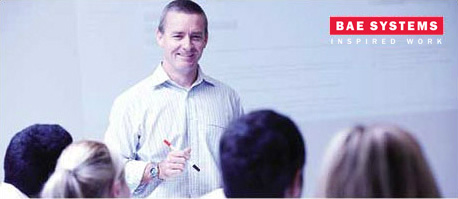 Managing large projects at BAE Systems Australia isn't for the faint-hearted. The challenges are varied, complex and testing. And they're different. Every day.
So when your ideas are listened to and you see them come to life, the experience is so much richer.
That works for me. Find out if it works for you.
PRODUCTION ENGINEER
BAE Systems is a global defence, aerospace and security company employing over 80,000 people worldwide. Our wide-ranging products and services cover air, land and naval forces, as well as advanced electronics, security, information technology, and support services.
As a Production Engineer you will be responsible for contributing to the success of engineering changes and maintenance activities, whilst working in accordance with relevant procedures and work instructions to ensure that technical, quality, schedule and cost objectives are met.
Key responsibilities include, but are not limited to:
• Provide engineering support and assistance to production supervisors and technicians
• Resolution of pre-fabrication, installation and testing issues in consultation with appropriate personnel, both locally in Henderson and remotely in Williamstown
• Ensure identified resolutions are implemented correctly and in a timely manner
• Ensure that engineering information is reviewed, accurate and complete prior to being issued to production
• Work with the quality team to ensure work executed is completed in accordance with drawings and relevant specifications
• Participate in the Non Conformance Reporting (NCR) process when deficiencies are identified
• Work with the wider production engineering team to identify priorities for continuous improvement
Key skills and experience required:
• Tertiary qualification in electrical or electronic engineering
• Significant experience on construction projects in a similar role
• Previous experience within the marine or heavy manufacturing industry
• Experience with communication or power distribution systems highly regarded
• Ability to work and communicate as part of a multi-disciplinary project team
• Ability to work with minimal supervision and complete tasks under strict deadlines
• A "can do, will do, have done" attitude
• Membership of Engineers Australia highly desirable
A Defence security clearance is required for this role, therefore applicants must be Australian citizens to be eligible to obtain and maintain appropriate clearance.
International Traffic in Arms Regulations (ITAR) are applicable and as such, your nationality may be a factor in determining your suitability for this role.
Please apply online to Sinead Monaghan - Recruitment Advisor by close of business Wednesday 29th March 2017. Your application should include a resume and whilst not essential, a cover letter is preferred.
Aboriginal and Torres Strait Islander applicants are encouraged to apply.
Support for training and development, competitive benefits, a genuine focus on diversity and family friendly, flexible work practices are yours at BAE Systems Australia.
BAE Systems Australia employees are encouraged to refer others for employment in line with the conditions of the Employee Referral Scheme.
Further information regarding clearances is available at https://careers.au.baesystems.com/opportunity.html
| | |
| --- | --- |
| | |