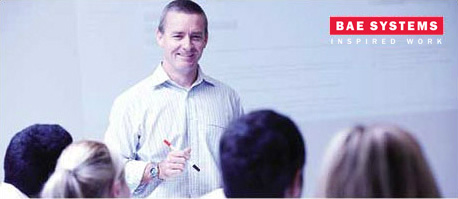 Managing large projects at BAE Systems Australia isn't for the faint-hearted. The challenges are varied, complex and testing. And they're different. Every day.
So when your ideas are listened to and you see them come to life, the experience is so much richer.
That works for me. Find out if it works for you.
FACILITIES PROJECT MANAGER
• Global company with multiple sites around Australia
• Permanent and full time Facilities Project Manager position
• Williamstown, Victoria location
BAE Systems Australia's core values of Trusted, Innovative and Bold underpin everything that we do. We are a global Defence and security company with wide-ranging products and services to support and protect Australia's Defence forces, as well as advanced electronics, security, information technology, and support services.  The Facilities Management team is integral to the delivery of this work.
Passionate people work at BAE Systems and the team contributes to something really big – the defence of Australia.  Reporting to the Facilities Solutions Manager, we are seeking to appoint a driven Facilities Project Manager to join our business.  This key position will be based at our Williamstown site and will be offered on a permanent and full time basis. 
As a Facilities Project Manager, you will:
• Deliver capital work and sub-elements of major capital facilities projects in accordance with the BAE Systems Governance framework and Life Cycle Management (LCM) requirements
• Assist with the development of the Corporate Facilities Management capability, delivering value through whole of life facilities solutions in support of current and future business needs
• Reduce risk to the business through identification, assessment and analysis of facilities risks to projects, personnel and property
• Coordinate the definition of project requirements and liaise with relevant stakeholders to help build an integrated project team and to facilitate the achievement of project objectives
• Develop value for money through-life facilities solutions that are commercially viable and fit for purpose
• Develop and cultivate assigned relationships with facilities suppliers and subcontractors
• Coordinate and manage activities on assigned project elements and sub-projects to ensure delivery to plan, monitor performance against plan and take action to ensure issues are addressed in an effective and timely manner
• Provide specialist facilities advice to the business by providing planned and ad-hoc consultancy support 
As an ideal applicant you will have:
• Extensive facilities management and project management experience
• A relevant project management qualification
• The ability to negotiate with and influence internal and external stakeholders in a way which generates business benefit whilst maintaining key relationships
• Leadership experience combined with the ability to balance conflicting priorities to deliver against customer and business requirements
Whilst not essential, facilities management and project management experience within the Defence industry will be highly regarded.
As Defence security clearance is required for this role, applicants must be Australian citizens and eligible to obtain and maintain appropriate clearance.
International Traffic in Arms Regulations (ITAR) are applicable and as such, your nationality may be a factor in determining your suitability for this role.
Applications should be addressed to: Kon Yiannikopoulos, HR Advisor – Recruitment & Resourcing.  Please ensure you attach a current resume and copy of your relevant qualification(s) to your application. A cover letter is preferred.
At BAE Systems, we have a strong safety, health and environmental culture; employee safety and well-being is a top priority. We also maintain a genuine commitment to diversity and inclusion and to training and development, offer competitive benefits and enjoy a family friendly work place with flexible work practices.
Aboriginal and Torres Strait Islander people are encouraged to apply.
BAE Systems Australia employees are encouraged to refer others for employment in line with the conditions of the Employee Referral Scheme.
Further information regarding clearances is available at: https://careers.au.baesystems.com/opportunity.html
SK9397A
| | |
| --- | --- |
| | |