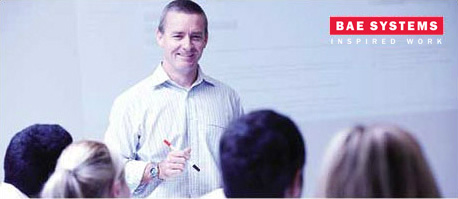 Managing large projects at BAE Systems Australia isn't for the faint-hearted. The challenges are varied, complex and testing. And they're different. Every day.
So when your ideas are listened to and you see them come to life, the experience is so much richer.
That works for me. Find out if it works for you.
Senior Configuration Controller
• Join the leading Defence industry organisation
• Utilise your configuration management experience – SATCOM focus
• Based in Canberra, ACT
The JP2008 Program provides an upgrade to the existing Australian Defence Force (ADF) SATCOM terrestrial infrastructure, provision of an additional Satellite Ground Station and the management and operation of the upgraded terrestrial system. To assist in configuration management, the team requires an experienced and professional Senior Configuration Controller.
As the Senior Configuration Controller you will be responsible for implementing the configuration management practices and systems within the project in accordance with the processes in the company's Business Management System, including any sector specific procedures and the project Configuration Management Plan.
In terms of more specific responsibilities, you will:
• Lead and contribute to the daily configuration tasks including managing data, parts, software and documents in soft and hardcopy using company systems and processes
• Liaise with project engineers to resolve configuration management issues and ensure the detailed configuration of the product remains known and under control and the product configuration can be accurately reported on request
• Provide advice, support and training as required as a subject matter expert
• Assist in estimating the configuration management effort and staffing profile for contract change proposals or bids for new/additional business
• Initiate or participate in process development for a specific project and subsequent testing and verification of its implementation into the electronic support system
• Contribute to the integrity of the configuration management system, including process procedures and tools supporting configuration management in the project environment, including the accuracy, currency and completeness of configuration management data/metadata, and the proper organisation and categorisation of documentation and data
• Monitor and contribute to the configuration change control process and changes affecting the configuration documentation
• Prepare and deliver configuration management deliverables to the customer, and the receipt and processing of data deliverables from suppliers, subcontractors or the customer
As the ideal applicant you will have:
• Significant CM experience in one or more engineering environments in a CM role, or an engineering/technical role involving with significant CM involvement, including at least one defence project
• Extensive experience in the use of recognised CM tools and associated databases
• An engineering degree, or relevant technical diploma or certificate desirable, or in a related discipline or trade skill with suitable experience
• Strong verbal and written communication skills
• A can do attitude and high attention to detail
As Defence security clearance is required for this role, applicants must be Australian citizens and eligible to obtain and maintain appropriate clearance. A NV1 security clearance or higher will be highly regarded.
International Traffic in Arms Regulations (ITAR) are applicable and as such, your nationality may be a factor in determining your suitability for this role.
Applications should be addressed to: Polly Buerano, Recruitment Specialist
Please ensure you attach a current resume and copy of your relevant qualification(s) to your application. A cover letter is preferred.
At BAE Systems you will find support for training and development, competitive benefits and family friendly, flexible work practices in addition to a genuine commitment to diversity and inclusion.
Aboriginal and Torres Strait Islander people are encouraged to apply.
BAE Systems Australia employees are encouraged to refer others for employment in line with the conditions of the Employee Referral Scheme.
Further information regarding clearances is available at: https://careers.au.baesystems.com/opportunity.html
| | |
| --- | --- |
| | |