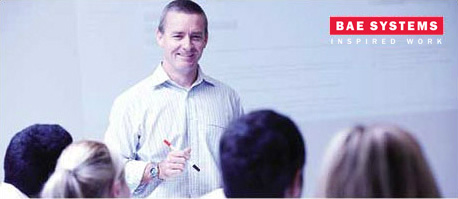 Managing large projects at BAE Systems Australia isn't for the faint-hearted. The challenges are varied, complex and testing. And they're different. Every day.
So when your ideas are listened to and you see them come to life, the experience is so much richer.
That works for me. Find out if it works for you.
PROJECT MANAGER
• Senior leadership opportunity within a global organisation!
• Project Manage a leading maritime sustainment contract  
• Sydney, NSW
BAE Systems is Australia's most versatile Defence and Security Company. The Maritime Sustainment business provides comprehensive through-life-support services for naval and marine ships and systems with sites in Sydney, Melbourne and Perth.
An exciting opportunity has become available for an experienced and dynamic leader to join our Maritime Sustainment business to project manage the Landing Helicopter Dock Transition Into Service Support Contract (TISSC). Reporting to the Program Manager - Amphibious Ships, you will be responsible for ensuring that the technical, cost and schedule goals associated with the service are achieved. You will lead the Management Services Team, integrating with various stakeholders from the customer and supply chain in a manner that creates collaborative working relationships between BAE Systems, the customer and industry partners.
In more specific terms you will:
• Be the primary interface with the customer and all stakeholders; building and maintaining customer relationships by being a focal point for the customer contact and actively working to understand customer needs and achieve customer satisfaction
• Oversee and coordinate  all contract activities and outputs to ensure that the required performance in terms of schedule, budget and technical requirements are met
• Develop and optimise the contract by monitoring and reporting on all contract performance indicators
• Lead and develop the project team to successfully execute the contract and enhance the customer experience
• Build and maintain a collaborative approach with all stakeholders within the project environment providing direction and leadership
• Lead the implementation of innovative processes that create a continuous improvement focus for the Management Service Team and key stakeholders
• Focus on the development of all engaged stakeholders to enhance Industry learning and capability throughout the duration of the contract
• Assess and manage the ongoing people resource requirements ensuring that the project resource requirements, to meet current and future needs, are identified and sourced, highlighting needs and requirements in advance for sourcing options to be approved and executed prior to roll-on requirement
• Be accountable for all aspects of reporting and progress reporting with all key stakeholders
As the ideal candidate you will have:
• A degree, Diploma or Post Graduate qualification in Business Management/Engineering
• Relevant experience of operating at a senior level in project management within an engineering organisation, preferably in defence or maritime environments
• Experience in the development and delivery of systems/products/services, where these may be complex in nature
• Exceptional customer service skills in order to work in a strong customer orientated environment
• The ability to motivate individuals and teams across a number of business areas, to shape and implement business requirements
• An ability  to balance conflicting priorities to deliver against customer and business requirements, with appropriate stakeholder management
• Exposure to creating effective Integrated Project Teams (IPTs) and team management
• Working experience in leading and championing continuous improvement initiatives
As Defence security clearance is required for this role, applicants must be Australian citizens and eligible to obtain and maintain appropriate clearance.
At BAE Systems, we have a strong safety, health and environmental culture; employee safety and well-being is a top priority. We also maintain a genuine commitment to diversity and inclusion and to training and development, offer competitive benefits and enjoy a family friendly work place with flexible work practices.
Applications should be addressed to: Leah Golias, Senior Recruitment Consultant. Please ensure you attach a current resume and copy of your relevant qualification(s) to your application. A cover letter is preferred.
BAE Systems Australia employees are encouraged to refer others for employment in line with the conditions of the Employee Referral Scheme.
Further information regarding clearances is available at: https://careers.au.baesystems.com/opportunity.html
| | |
| --- | --- |
| | |