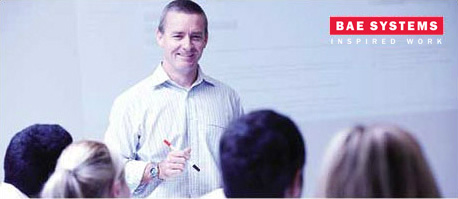 Managing large projects at BAE Systems Australia isn't for the faint-hearted. The challenges are varied, complex and testing. And they're different. Every day.
So when your ideas are listened to and you see them come to life, the experience is so much richer.
That works for me. Find out if it works for you.
QUALITY OFFICER

• State of the art Navy platform; The Landing Helicopter Dock (LHD)
• Work within a team that has a strong commitment to quality and safe work practices
• Garden Island, Potts Point location with complimentary bus service to and from the CBD
Passionate people work at BAE Systems Australia and the team contributes to something really big – the Defence of Australia.  The Maritime Sustainment business provides comprehensive through-life-support services for naval and marine ships and systems with sites in Sydney, Melbourne and Perth.

As the Quality Officer, you will assist with the delivery of a broad range of planned quality activities designed to provide assurance to management that quality practices are being effectively deployed across the project.
In more specific terms, you will:
• Ensure quality standards are maintained to the satisfaction of internal and external customers
• Undertake the review of project, supplier and subcontractor inspection and testing plans for compliance to company requirements and customer, regulatory and statutory requirements
• Act as the point of contact and providing guidance, advice and support on all quality matters
• Liaise with suppliers and subcontractors to ensure the required objective quality evidence is obtained and is compliant to requirements
• Undertake the review and reporting on the efficiency and effectiveness of quality practices across the business
• Ensure non-conformances/non-compliances discovered are communicated appropriately and reported with the problem reporting database
• Obtain feedback from customers and assisting with the implementation of plans and activities to maintain and improve the business
As the ideal applicant, you will have:
• Demonstrated experience in a quality engineering related role and familiarity with engineering drawings and specifications
• Mechanical/electrical/electronic trade background
• An understanding of quality practices and continuous improvement
• Well-developed  interpersonal skills and demonstrated ability to work under you own initiative to deliver outputs
• Strong written and verbal communication skills
Whilst not essential, formal qualifications in the Quality field or a tertiary degree level qualification will be highly regarded.
Whilst not essential, formal qualifications in the Quality field or a tertiary degree level qualification will be highly regarded.

As Defence security clearance is required for this role, applicants must be Australian citizens and eligible to obtain and maintain appropriate clearance.

International Traffic in Arms Regulations (ITAR) are applicable and as such, your nationality may be a factor in determining your suitability for this role.

Applications should be addressed to: Leah Golias – Senior Recruitment Specialist.  Please ensure you attach a current resume and copy of your relevant qualification(s) to your application. A cover letter is preferred.

At BAE Systems, we have a strong safety, health and environmental culture; employee safety and well-being is a top priority. We also maintain a genuine commitment to diversity and inclusion and to training and development, offer competitive benefits and enjoy a family friendly work place with flexible work practices.

BAE Systems Australia employees are encouraged to refer others for employment in line with the conditions of the Employee Referral Scheme.

Further information regarding clearances is available at: https://careers.au.baesystems.com/opportunity.html
| | |
| --- | --- |
| | |