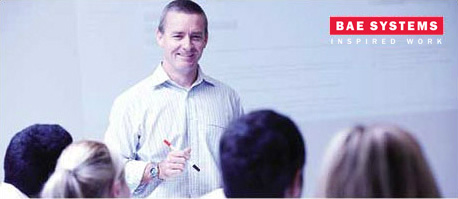 Managing large projects at BAE Systems Australia isn't for the faint-hearted. The challenges are varied, complex and testing. And they're different. Every day.
So when your ideas are listened to and you see them come to life, the experience is so much richer.
That works for me. Find out if it works for you.
Maintenance Planner
BAE Systems is a global defence, aerospace and security company employing over 80,000 people worldwide. Our wide-ranging products and services cover air, land and naval forces, as well as advanced electronics, security, information technology, and support services.
In Cairns, BAE Systems provides Hydrographic In Service Support (HISS) to the Royal Australian Navy, managing the in service support requirements of Hydrographic Ships, Survey Motor Launches and Survey Motor Boats.
As the Maintenance Planner, you will be responsible for planning, scheduling, reporting and controlling Maintenance activities and ensuring supportability requirements are captured into the schedule.     
You will be responsible for:
• Working with the engineering team to ensure that engineering configuration changes and supportability requirements are captured into the schedule for maintenance periods
• Engaging with subcontractors directly relating to maintenance support for the Hydrographic Fleet of vessels
• Directly accessing external Classification Society (Lloyds Register) in matters pertaining to classification of the Hydrographic ships
• Managing, planning and producing supporting documentation for maintenance activities
• Managing, developing and submitting quotations, tenders and associated documentation pertaining to maintenance management, required by the Commonwealth for the support of the ships
• Interfacing with Commonwealth representatives to ensure effective communication is established and maintained and that approvals are received before progressing with tasks
• Developing work packs for external maintenance periods
• Providing support to the Production Supervisor during the conduct of external maintenance periods

As the ideal applicant you will have:
• Tertiary Qualification in Project Management or related discipline highly desirable
• Proven background in project planning and scheduling
• Experience working in the Defence or Maritime industry highly desirable
• Self-motivated with exceptional organisational skills and the ability to meet deadlines
• Advanced skills in Microsoft Office, particularly Excel and Project
• Good communication skills and the ability to work collaboratively with others
• Strong work ethic, flexible attitude and commitment to safe work practices
• A strong focus on identifying and implementing process improvements
A Defence security clearance is required for this role, therefore applicants must be Australian citizens and eligible to obtain and maintain appropriate clearance.
Applications should be addressed to Sinead Monaghan – Recruitment Advisor by close of business Monday 24th July 2017. Please ensure you attach a current resume to your application. A cover letter is preferred.
At BAE Systems, we have a strong safety, health and environmental culture; employee safety and well-being is a top priority. We also maintain a genuine commitment to diversity and inclusion and to training and development, offer competitive benefits and enjoy a family friendly work place with flexible work practices.
Aboriginal and Torres Strait Islander people are encouraged to apply.
BAE Systems Australia employees are encouraged to refer others for employment in line with the conditions of the Employee Referral Scheme.
| | |
| --- | --- |
| | |