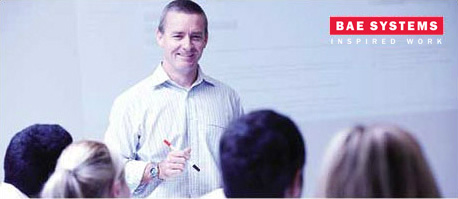 Managing large projects at BAE Systems Australia isn't for the faint-hearted. The challenges are varied, complex and testing. And they're different. Every day.
So when your ideas are listened to and you see them come to life, the experience is so much richer.
That works for me. Find out if it works for you.
MAINTENANCE ENGINEERING MANAGER
* Global company with multiple sites around Australia
* Permanent and full time Maintenance Engineering Manager position
* Richmond, Victoria location
BAE Systems is Australia's most versatile Defence and Security Company.  BAE Systems Australia's globally recognised skills has produced some of the world's most successful guided weapons and ship air Defence systems, used by various NATO nations.
An opportunity has arisen for an enthusiastic Maintenance Engineering Manager to support the Nulka In-Service Sustainment (ISS) program.  This exciting and rewarding role will report to the Product Support Engineering Manager, based at our Richmond, Victoria location, and will be offered on a permanent and full time basis. 
As the Maintenance Engineering Manager, you will:
* Support the Product Support Engineering Manager by delivering the management of all engineering tasking's associated within the program
* Efficiently manage all engineering tasks within the program
* Undertake engineering maintenance control in support of the Maintenance Manuals, In-Service Nulka mission system and support system components,  associated technical data packs as well as their modification standards
* Mentor and guide the engineering team
* Manage engineering processes and tools in line with the program engineering management plan
* Support the Product Support Engineering Manager and the System Technical Authority in the coordination of the Joint Project Office (Australia and US) with all program engineering activities
* Provide monthly and quarterly engineering reports to customers and internal stakeholders on works conducted and value returned to the maintenance capability
* Manage the system design, implementation, integration and development testing to achieve the system requirements within the budgeted cost and schedule
* Occasionally travel to support the work demands of the program
As an ideal applicant you will have:
* Extensive multifaceted engineering experience and demonstrated leadership experience
* A tertiary degree level engineering qualification
* The ability to negotiate with and influence internal and external stakeholders in a way which generates business benefit whilst maintaining key relationships
* A strong passion for engineering and an energetic approach to the tasks
* A continuous improvement focus and a commitment to meet deadlines
Whilst not essential, engineering experience within the Defence or aerospace industry will be highly regarded.
As Defence security clearance is required for this role, applicants must be Australian citizens and eligible to obtain and maintain appropriate clearance.
International Traffic in Arms Regulations (ITAR) are applicable and as such, your nationality may be a factor in determining your suitability for this role.
Applications should be addressed to: Kon Yiannikopoulos, HR Advisor – Recruitment & Resourcing.  Please ensure you attach a current resume and copy of your relevant qualification(s) to your application. A cover letter is preferred.
At BAE Systems, we have a strong safety, health and environmental culture; employee safety and well-being is a top priority. We also maintain a genuine commitment to diversity and inclusion and to training and development, offer competitive benefits and enjoy a family friendly work place with flexible work practices.
Aboriginal and Torres Strait Islander people are encouraged to apply.
BAE Systems Australia employees are encouraged to refer others for employment in line with the conditions of the Employee Referral Scheme.
Further information regarding clearances is available at: https://careers.au.baesystems.com/opportunity.html
SK9397A
| | |
| --- | --- |
| | |