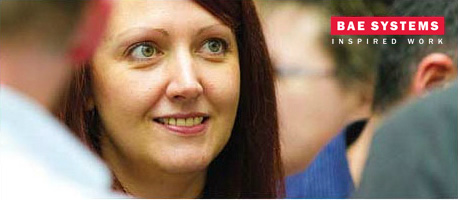 Working at BAE Systems Australia is a quick way to grow my career; different experiences, a variety of challenges and the chance to put my skills to the test.
However, the main reason it works for me is the lifestyle. It's friendly, flexible, accommodating and focused on my personal growth.
That works for me. Find out if it works for you.
Change Manager
Seeking a seasoned Change Manager
Part time opportunity (0.6) and a fixed term until August 2018
Based in Edinburgh Parks, SA
As the Change Manager, you will be responsible for providing guidance and advice on the organisation impact of change including changes to business processes, systems and technology, necessary in support of program delivery.
In terms of more specific responsibilities, you will:
Partner with the lead team to develop a strong understanding of the major changes that will lead to successful execution of the program

Partner with the relevant business stakeholders to develop a strong understanding of how the change will effect different people groups

Drive change analysis, reviewing scope and impact to arrive at an overarching change management plan for each major change

Map timeline of major changes and sub changes to identify overlapping change activities and plan change management priorities

Partner with the relevant business stakeholders and lead team to prioritise change activities based on scope and impact of change

Proactively identify overlapping change activities and engage business stakeholders to streamline/ de-risk these scenarios

Adopt a long term, strategic view of the impact of effective change management and develop change management plans that facilitate positive and sustainable change

Drive an understanding with the lead team and business stakeholders regarding their role in the change management process and change activities

Partner with stakeholders to develop comprehensive stakeholder assessments

Develop and drive the execution of communications plans in support of change activities

Drive the execution of the change management plans through influential partnerships

Constantly review the change management plans to reflect changing circumstances
As the ideal applicant you will have:
Substantial experience in change management

Advanced communication skills with the ability to communicate complex information

The ability work under pressure, manage conflict and influence stakeholders

The ability to translate technology impacts on customer needs and requirements

Advanced skills in teamwork, collaboration, facilitation, negotiation, and conflict resolution

Strong commercial acumen and understanding of business value and understanding of the issues an organisation faces

Demonstrated ability to adapt critical thinking, and problem solving

The ability to motivate individuals and teams across a number of business areas, to shape and implement business requirements
Whilst not necessary, a PROSCI qualification will be highly regarded.
As Defence security clearance is required for this role, applicants must be Australian citizens and eligible to obtain and maintain appropriate clearance.
Applications should be addressed to: Lesley Mackman, Senior Recruitment Specialist
Please ensure you attach a current resume and copy of your relevant qualification(s) to your application. A cover letter is preferred.
At BAE Systems, we have a strong safety, health and environmental culture; employee safety and well-being is a top priority. We also maintain a genuine commitment to diversity and inclusion and to training and development, offer competitive benefits and enjoy a family friendly work place with flexible work practices.
Aboriginal and Torres Strait Islander people are encouraged to apply.
BAE Systems Australia employees are encouraged to refer others for employment in line with the conditions of the Employee Referral Scheme.
Further information regarding clearances is available at: https://careers.au.baesystems.com/opportunity.html
| | |
| --- | --- |
| | |