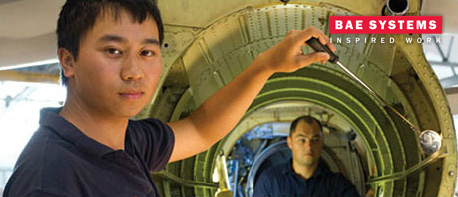 Looking after complex Defence and security systems takes a skill and focus. You can't rush this work.
That's why BAE Systems Australia provides the professional workspaces and equipment I need. Plus, management respects my ability and experience, so autonomy isn't a buzzword when you work here.
That works for me. Find out if it works for you.
ALUMINIUM WELDERS
• Join Australia's Defence Industry leader
• 12 months fixed term positions
• Based in Henderson WA
BAE Systems is a global defence, aerospace and security company employing over 80,000 people worldwide. Our wide-ranging products and services cover air, land and naval forces, as well as advanced electronics, security, information technology, and support services.
In Henderson, BAE Systems provide engineering, manufacturing and construction services to the Defence, Commercial Shipping and Energy and Resources industries.
We are currently seeking experienced Aluminum Welders to support our Defence projects in Henderson.
Applicants must be able to pass GL certified weld test including Gas Metal Arc Welding – MIG (GMAW) 3G, 4G and 4F weld positions on 20mm and 12mm thick plate. Aluminum 5000/6000 series. Other duties include general workshop/yard work and fire sentry.
As the ideal applicant you will have:
• Structural/plate welding experience preferably within the Maritime industry
• Construction Industry Blue or White Card
• Current Working at Heights licence (highly desirable)
• Current Confined Space certification (highly desirable)
• Competence with Gas Metal Arc Welding – MIG (GMAW)
• Competence with welding Aluminium
• Competence with 3G, 4G and 4F weld positions
• Competence with full penetration butt welding (F.S.B.W)
• An ability to read, interpret and follow drawings, specifications and standards
• Good written and verbal communication skills
• Self-motivation with the ability to set priorities and meet deadlines
• Strong analytical and problem solving skills
• Good teamwork skills, a strong work ethic and a flexible attitude
• A strong commitment to safe work practices
Applications should be addressed to Sinead Monaghan – Recruitment Advisor by close of business Wednesday 23rd August 2017. Please ensure you attach a current resume to your application.
At BAE Systems, we have a strong safety, health and environmental culture; employee safety and well-being is a top priority. We also maintain a genuine commitment to diversity and inclusion and to training and development, offer competitive benefits and enjoy a family friendly work place with flexible work practices.
Aboriginal and Torres Strait Islander people are encouraged to apply.
BAE Systems Australia employees are encouraged to refer others for employment in line with the conditions of the Employee Referral Scheme.
| | |
| --- | --- |
| | |