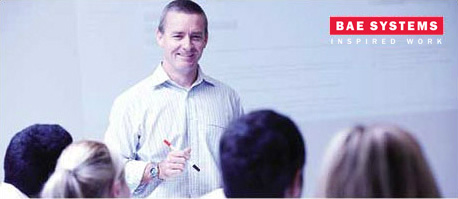 Managing large projects at BAE Systems Australia isn't for the faint-hearted. The challenges are varied, complex and testing. And they're different. Every day.
So when your ideas are listened to and you see them come to life, the experience is so much richer.
That works for me. Find out if it works for you.
SOFTWARE ENGINEER
* Meaningful work of national significance at a company that places a strong emphasis on quality and safe work practices
* Software Engineering guru wanted to work on an uninhabited autonomous aircraft development project
* Richmond, Victoria location
BAE Systems is Australia's most versatile Defence and Security Company.  BAE Systems Australia's globally recognised skills have produced some of the world's most successful guided weapons and ship air Defence systems, used by various NATO nations.
BAE System's core values of Trusted, Innovative and Bold under pin everything that we do.  Operating in an agile software development framework, we currently have a rewarding opportunity for a savvy Software Engineer to design, develop, integrate and verify real-time, safety-critical flight control software for uninhabited autonomous aircraft and associated support equipment. This integral role will be part of an inclusive and friendly team at our Richmond office and will be offered on a permanent and full time basis.
In terms of more specific responsibilities, you will:
* Perform software engineering activities including software requirements analysis and specification, functional analysis, design and development, and integration and test
* Work closely with Guidance, Navigation and Control engineers to optimise the implementation of flight algorithms
* Develop and execute software system and component tests to ensure that the implemented designs conform to their specifications
* Undertake the verification and validation of software in a high integrity and high assurance environment
* Develop and utilise both software-in-loop and hardware-in-loop simulation environments throughout the software development lifecycle
* Support aircraft integration and flight test activities
* Maintain the design and documentation in accordance with configuration management, change management and traceability processes
* Independently review peers' work, identify technical risks and unknowns and support planning activities 
As an ideal applicant you will have:
* A university degree qualification coupled with relevant experience in software engineering
* Experience in the design, development and verification of real-time safety-critical software for embedded systems
* C++ software experience working in a real-time or resource constrained environment
* Experience with Agile software development lifecycle
Whilst not essential, demonstrated knowledge of developing software within a certification framework in a Defence or Aerospace environment will be highly regarded.
Applications should be addressed to: Kon Yiannikopoulos, HR Advisor – Recruitment & Resourcing.  Please ensure you attach a current resume and copy of your relevant qualification(s) to your application. A cover letter is preferred.
At BAE Systems, we have a strong safety, health and environmental culture; employee safety and well-being is a top priority. We also maintain a genuine commitment to diversity and inclusion and to training and development, offer competitive benefits and enjoy a family friendly work place with flexible work practices.
Aboriginal and Torres Strait Islander people are encouraged to apply.
BAE Systems Australia employees are encouraged to refer others for employment in line with the conditions of the Employee Referral Scheme.
SK9397A
| | |
| --- | --- |
| | |