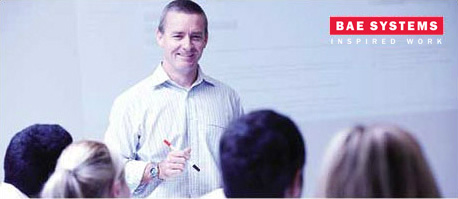 Managing large projects at BAE Systems Australia isn't for the faint-hearted. The challenges are varied, complex and testing. And they're different. Every day.
So when your ideas are listened to and you see them come to life, the experience is so much richer.
That works for me. Find out if it works for you.
CONFIGURATION CONTROL OFFICER
* Meaningful work of national significance at a company that places a strong emphasis on quality and safe work practices
* Permanent and full time Configuration Control Officer position
* Richmond, Victoria location
BAE Systems is Australia's most versatile Defence and Security Company.  BAE Systems Australia's globally recognised skills have produced some of the world's most successful guided weapons and ship air Defence systems, used by various NATO nations.
BAE System's core values of Trusted, Innovative and Bold under pin everything that we do.  We currently have a rewarding opportunity for a savvy Configuration Control Officer to support the Nulka-In-Service Sustainment and Nulka Development programs. This integral role will be part of an inclusive and friendly team at our Richmond office reporting to the Product Support Engineering Manager and will be offered on a permanent and full time basis.
As a Configuration Control Officer, you will:
* Implement configuration management practices and provide configuration management support for the Nulka-In-Service Support and Nulka Development programs
* Act the point of contact for configuration enquiries from the Customer for the Nulka programs
* Manage the product identification and control including the product breakdown structure and associated configuration items, both hardware and software
* Manage the configuration change process including variations and act as Secretary for Configuration Change Boards (CCB) and respond to CCB action items
* Conduct configuration status accounting and provide reports using the company product lifecycle management tool
* Prepare configuration management deliverables to the Customer
* Deliver the documentation, data and change documentation to the Customer and associated configuration status accounting including the release process
* Provide data management services to support the project including receipt, review, processing, storage, distribution, retention and disposal of data. This includes the protection and handling of Classified and Controlled data
* Contribute to the resolution of configuration management and process problems, process improvement and the maintenance of the configuration management documentation and plans
* Provide configuration management training to program staff
* Propose, develop and test new functionality of the electronic configuration management support system
As an ideal applicant you will have:
* Configuration control and configuration management experience in an engineering environment
* Demonstrated experience utilising configuration management tools and databases
* Well-developed literacy in computer usage including highly developed skills in standard office applications such as the Microsoft Office Suite
* Strong communication skills and the ability to influence and develop effective working relationships with a variety of stakeholders at all levels
As Defence security clearance is required for this role, applicants must be Australian citizens and eligible to obtain and maintain appropriate clearance.
International Traffic in Arms Regulations (ITAR) are applicable and as such, your nationality may be a factor in determining your suitability for this role.
Applications should be addressed to: Kon Yiannikopoulos, HR Advisor – Recruitment & Resourcing.  Please ensure you attach a current resume and copy of your relevant qualification(s) to your application. A cover letter is preferred.
At BAE Systems, we have a strong safety, health and environmental culture; employee safety and well-being is a top priority. We also maintain a genuine commitment to diversity and inclusion and to training and development, offer competitive benefits and enjoy a family friendly work place with flexible work practices.
Aboriginal and Torres Strait Islander people are encouraged to apply.
BAE Systems Australia employees are encouraged to refer others for employment in line with the conditions of the Employee Referral Scheme.
Further information regarding clearances is available at: https://careers.au.baesystems.com/opportunity.html
SK9397A
| | |
| --- | --- |
| | |