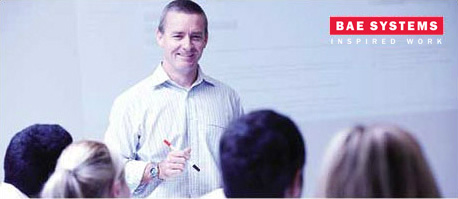 Managing large projects at BAE Systems Australia isn't for the faint-hearted. The challenges are varied, complex and testing. And they're different. Every day.
So when your ideas are listened to and you see them come to life, the experience is so much richer.
That works for me. Find out if it works for you.
Software Engineer
Software Engineer
• Join an interesting project, perform meaningful work
• Bring your strong software development skills to add value to the project
• Based in Edinburgh Parks, SA
BAE Systems Australia's core values of being Trusted, Innovative and Bold underpin everything we do. As an equal opportunity employer of choice, we provide a supportive environment in which we enjoy flexibility, diversity, varied development opportunities, a commitment to environmental zero harm, and innovative work. We have an exciting opportunity to bring in a Software Engineer to join our high functioning team in an early career opportunity.
The successful applicant will join our Wedgetail team, developing airborne and ground Electronic Support Measures software to intercept, identify, locate and analyse sources of electromagnetic energy for self-protection and operational planning.
In terms of more specific responsibilities, you will:
• Analyse, develop, maintain and unit test the C#, C and C++ components of the user interface and application software
• Design and develop software in accordance with the appropriate standards and processes
• Key tools: Visual Studio, SQL Server, GIT, Atlassian (JIRA, Bamboo, Fisheye)
• Review and perform integration testing on software produced by other team members
• Translate software requirements into formal test plans and procedures
• Formally execute test procedures with a Quality Assurance witness
• Contribute to the production of other technical Software Engineering documentation
• Assist in the preparation and conduct of integration and test activities
• Develop information required for design and code reviews and audits
As the ideal applicant you will have:

• Sound experience in software development
• A willingness to develop a strong understanding of Electronic Warfare principles
• A degree qualification in software engineering or development
• The ability to analyse problems quickly and skilfully
• Be capable of formulating reliable estimates of own tasks and be driven to working within those estimates.
• Excellent problem-solving skills
• Patience and perseverance
• Highly developed communication skills
As Defence security clearance is required for this role, applicants must be Australian citizens and eligible to obtain and maintain appropriate clearance.
International Traffic in Arms Regulations (ITAR) are applicable and as such, your nationality may be a factor in determining your suitability for this role.
Applications should be addressed to: Derek Blaschek, Recruitment Specialist
Please ensure you attach a current resume and copy of your relevant qualification(s) to your application. A cover letter is preferred.
At BAE Systems you will find support for training and development, competitive benefits and family friendly, flexible work practices in addition to a genuine commitment to diversity and inclusion.
Aboriginal and Torres Strait Islander people are encouraged to apply.
BAE Systems Australia employees are encouraged to refer others for employment in line with the conditions of the Employee Referral Scheme.
Further information regarding clearances is available at: https://careers.au.baesystems.com/opportunity.html
| | |
| --- | --- |
| | |