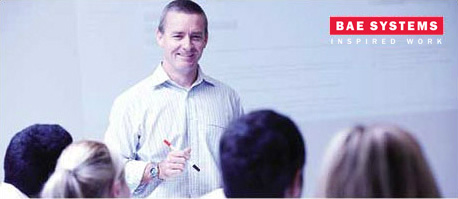 Managing large projects at BAE Systems Australia isn't for the faint-hearted. The challenges are varied, complex and testing. And they're different. Every day.
So when your ideas are listened to and you see them come to life, the experience is so much richer.
That works for me. Find out if it works for you.
Integration (ICT) Engineer
Intelligence, Surveillance & Reconnaissance projects
Australian defence security clearance at a Top Secret Positive Vet (TSPV) level is a requirement of this role
Based in either Edinburgh Parks, SA or Canberra, ACT
Our Intelligence, Surveillance & Reconnaissance (ISR) business has as strong pedigree of capability delivery to our customer base. Now and into the future, we anticipate we will enjoy strong growth and interesting challenges in supporting the Department of Defence to deliver Information and Communications Technology (ICT) solutions. Due to this growth, we seek an experienced ICT Engineer.
As the Information, Communication and Technology (ICT) Engineer, you will be accountable for the design and development of ICT systems encompassing server, storage and networking hardware, in order to achieve the required business performance.
In terms of more specific responsibilities, you will:
Undertake ICT system design, including analysis of candidate solutions, design documentation, requirements traceability and participation in design reviews
Undertake the translation of the ICT system design into a manufacturable solution, including the procurement of equipment and software, system build and configuration documentation
Undertake ICT system installation and integration activities to ensure its realisation and participation in production readiness reviews
Support ICT system qualification activities to ensure that the system meets all requirements
Assist with the production of ICT system operating procedures and provide support for production ICT systems
Communicate with vendors to resolve technical issues
As the ideal applicant you will have:
A Top Secret Positive Vet (TSPV) Australian defence security clearance

ASD Psychological Assessment (PA) is preferred

Red Hat Certified Engineering (RHCE) experience
Certified Cisco Network Associate (CCNA) experience
Strong experience in TCP/IP networks
Experience with HP servers, Cisco and Juniper equipment, Red Hat Enterprise Linux (RHEL), Windows Server 2008/2012 and VMWare VSphere
Experience in cross domain solutions, information security, accreditation, and system hardening
As Defence security clearance (TSPV) is a requirement for this role, applicants must be cleared to this level.
International Traffic in Arms Regulations (ITAR) are applicable and as such, your nationality may be a factor in determining your suitability for this role.
Applications should be addressed to: Lesley Mackman. Senior Recruitment Specialist
Please ensure you attach a current resume and copy of your relevant qualification(s) to your application. A cover letter is preferred.
At BAE Systems you will find support for training and development, competitive benefits and family friendly, flexible work practices in addition to a genuine commitment to diversity and inclusion. 
Aboriginal and Torres Strait Islander people are encouraged to apply.
BAE Systems Australia employees are encouraged to refer others for employment in line with the conditions of the Employee Referral Scheme.
Further information regarding clearances is available at: https://careers.au.baesystems.com/opportunity.html
| | |
| --- | --- |
| | |