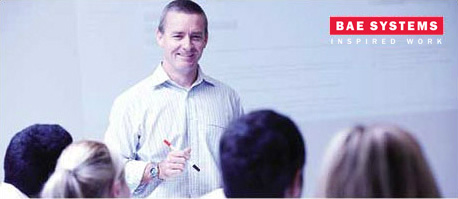 Managing large projects at BAE Systems Australia isn't for the faint-hearted. The challenges are varied, complex and testing. And they're different. Every day.
So when your ideas are listened to and you see them come to life, the experience is so much richer.
That works for me. Find out if it works for you.
Expressions of Interest - Support Engineering (ILS) professionals
Expressions of interest sought

Multiple opportunities across the South Australian business
Edinburgh Parks, South Australian location
At BAE Systems, our advanced defence technology protects people and national security, and keeps critical information and infrastructure secure. For over 60 years we have searched for new ways to provide our customers in Australia with a competitive edge across the air, maritime, land and cyber domains. We employ a skilled workforce of some 3,500 people at over 25 locations across Australia, and work closely with local partners to support economic development by transferring knowledge, skills and technology. Our work helps keep Australia safe and contributes to creating a more prosperous and innovative nation.
The future is bright at BAE Systems and we're looking for talented people to join us.   Whilst opportunities are broad across a variety of domains, we're keen to receive expressions of interest from individuals for opportunities within our HF Radar projects and other new programs.
To ensure our programs are delivered by the very best talent, we invite you to express your interest in joining BAE Systems Australia as a Support Engineering (ILS) professional.
We are looking for innovative, solutions focused people who are open to exploring new ideas. You will be part of a large Support Engineering team contributing to the successful execution of acquisition and sustainment programs. With opportunities at all levels, you will contribute to specialty logistics activities in accordance with project procedures and work instructions to achieve technical, schedule and cost goals.
Opportunities include:
Support Engineers (Reliability, Availability and Maintainability)
Logistic Support Analysts
Technical Authors
Technical Drafters
Technical Illustrators
As an ideal applicant you will have:
Previous experience in a similar role preferably within the Defence sector
A qualification in an applicable speciality logistics field or equivalent experience
Highly developed time management skills, with the ability to plan and prioritise
The ability to contribute to and work in a cross-functional team while ensuring specific responsibilities are achieved  
Well-developed interpersonal skills with the ability to communicate at all levels and across teams
As Defence security clearance is required for this role, applicants must be Australian citizens and eligible to obtain and maintain appropriate clearance.
International Traffic in Arms Regulations (ITAR) may be applicable and as such, your nationality may be a factor in determining your suitability for this role.
At BAE Systems, we have a strong safety, health and environmental culture; employee safety and well-being is a top priority. We also maintain a genuine commitment to diversity and inclusion and to training and development, offer competitive benefits and enjoy a family friendly work place with flexible work practices.
Expressions of interest should be addressed to Donna Dittmar, Recruitment Specialist.
Please ensure you attach a current resume and copy of your relevant qualification(s) to your application. A cover letter is preferred.
Aboriginal and Torres Strait Islander people are encouraged to apply.
BAE Systems Australia employees are encouraged to refer others for employment in line with the conditions of the Employee Referral Scheme.
Further information regarding clearances is available at: https://careers.au.baesystems.com/opportunity.html
| | |
| --- | --- |
| | |