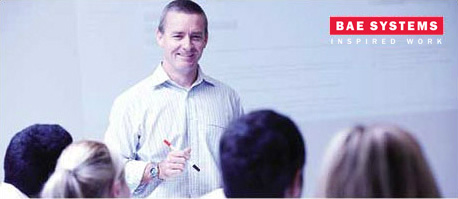 Managing large projects at BAE Systems Australia isn't for the faint-hearted. The challenges are varied, complex and testing. And they're different. Every day.
So when your ideas are listened to and you see them come to life, the experience is so much richer.
That works for me. Find out if it works for you.
Technical Services Officer
Seeking IT professionals with a passion for providing exceptional customer service
Bring your can do attitude and problem solving skills
Based in Edinburgh Parks, SA
At BAE Systems, our advanced defence technology protects people and national security, and keeps critical information and infrastructure secure. For over 60 years we have searched for new ways to provide our customers in Australia with a competitive edge across the air, maritime, land and cyber domains To meet planned growth, we seek an experienced Technical Services Officer to join our Information, Management and Technology team.
As the Technical Services Officer, you will be responsible for providing technical support to customers on the compay's computing environment.
In terms of more specific responsibilities, you will:
Provide technical support for the customer's extensive computing fleet such as infrastructure, mobile fleet, personal device assets and video conferencing technologies
Contribute to timely responses and recommendations on support requests and continuous improvement strategies to customer problems and queries to deliver a high level of customer service and reduce lifecycle processes
Troubleshoot and provide information to enable resolution on support requests and promptly allocate unresolved calls as appropriate
Receive and handle requests for support, following agreed procedures and within service level agreement guidelines
Install and configure desktop hardware, software and peripherals devices in a network environment, assisting in packaging of applications using prescribed framework
Manage customer expectations for the resolution of outstanding incident and service requests, advising customers in a timely manner of system downtime or interruptions
Create and maintain process instructions and relevant documentation
Work with the Asset Management team to ensure all information technology assets are properly tracked
Complete system administration and classified duties as required
Alert the customer or business to potential, or known problems that affect the quality of services provided
As the ideal applicant you will have:
Relevant experience in an information technology environment with experience in supporting the latest operating systems, devices and video conferencing technologies
Well-developed communication skills and able to interact effectively with customers, suppliers and team members
The ability to present complex technical information to both technical and non-technical audiences
Knowledge of information technology hardware, software and telecommunications
An understanding of commonly used business applications and engineering software tools
An organised and motivated approach to work with the ability to manage your own workload through the use of a helpdesk system to manage and record results
The demonstrated ability to troubleshoot and identify problems with computer systems (hardware/software) in an IT environment
Proven critical thinking and problem solving skills and be known as a person, who strives for successful outcomes
Whilst not essential, Information Technology Infrastructure Library (ITIL) qualifications will be an advantage.
As Defence security clearance is required for this role, applicants must be Australian citizens and eligible to obtain and maintain appropriate clearance.
International Traffic in Arms Regulations (ITAR) are applicable and as such, your nationality may be a factor in determining your suitability for this role.
Applications should be addressed to: Lesley Mackman, Senior Recruitment Specialist
Please ensure you attach a current resume and copy of your relevant qualification(s) to your application. A cover letter is preferred.
At BAE Systems, we have a strong safety, health and environmental culture; employee safety and well-being is a top priority. We also maintain a genuine commitment to diversity and inclusion and to training and development, offer competitive benefits and enjoy a family friendly work place with flexible work practices.
Aboriginal and Torres Strait Islander people are encouraged to apply.
BAE Systems Australia employees are encouraged to refer others for employment in line with the conditions of the Employee Referral Scheme.
Further information regarding clearances is available at: https://careers.au.baesystems.com/opportunity.html
| | |
| --- | --- |
| | |