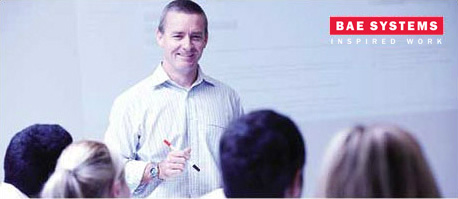 Managing large projects at BAE Systems Australia isn't for the faint-hearted. The challenges are varied, complex and testing. And they're different. Every day.
So when your ideas are listened to and you see them come to life, the experience is so much richer.
That works for me. Find out if it works for you.
Network Administrator
Use your superior networking skills and experience on exciting defence projects
Join this high performing agile team
Based in Edinburgh Parks, SA
At BAE Systems, our advanced defence technology protects people and national security, and keeps critical information and infrastructure secure. For over 60 years we have searched for new ways to provide our customers in Australia with a competitive edge across the air, maritime, land and cyber domains. As a result of growth, we are seeking an experienced Network Administrator to join our team.
Reporting to the Lead Network Administrator, you will be responsible for aspects of design, implementation and day to day management of the BAE Systems unrestricted local area network and wide area network environments. As part of a team, you'll work to ensure that the systems are efficient and reliable.      
In terms of more specific responsibilities, you will:
Specify, design and implement wide area networks and local area networks for BAE Systems Australia that meet or exceed industry standard best practices
Provide network consultancy and assistance to various business units, in the design, set to work and troubleshooting of both BAE Systems classified networks and  deliverables
Assist with design and implement advanced security solutions based on industry leading products to protect the BAE Systems Australia corporate network
Ensure that the network solutions and infrastructure meet the current performance, reliability, security and business requirements of the company
Pro-actively monitor and maintain all existing network infrastructure Australia wide, including the monitoring of telecommunication provided infrastructure to ensure compliance to service level agreements
Ensure the day to day stability and operation of the corporate network
Assist service desk, enterprise messaging and operating systems staff on network concepts and troubleshooting techniques
As the ideal applicant you will have:
A degree level qualification in computer science/information systems and demonstrated post qualification experience or equivalent experience in a network or similar role
Demonstrated ability and up to date knowledge of network systems, network management systems and application monitoring systems
Demonstrated systems analysis skills, critical thinking and problem solving abilities
Well-developed communication skills and the ability to engage with and influence stakeholders in a way that generates business benefit whilst maintaining key relationships
An ability to monitor, manage and prioritise work load and competing tasks
As Defence security clearance is required for this role, applicants must be Australian citizens and eligible to obtain and maintain appropriate clearance.
International Traffic in Arms Regulations (ITAR) are applicable and as such, your nationality may be a factor in determining your suitability for this role.
Applications should be addressed to: Lesley Mackman, Senior Recruitment Specialist.
Please ensure you attach a current resume and copy of your relevant qualification(s) to your application. A cover letter is preferred.
At BAE Systems, we have a strong safety, health and environmental culture; employee safety and well-being is a top priority. We also maintain a genuine commitment to diversity and inclusion and to training and development, offer competitive benefits and enjoy a family friendly work place with flexible work practices.
Aboriginal and Torres Strait Islander people are encouraged to apply.
BAE Systems Australia employees are encouraged to refer others for employment in line with the conditions of the Employee Referral Scheme.
Further information regarding clearances is available at: https://careers.au.baesystems.com/opportunity.html
| | |
| --- | --- |
| | |