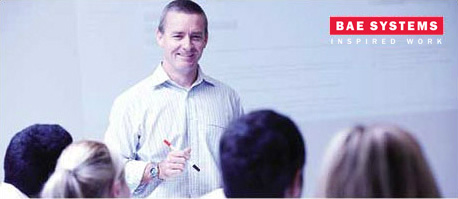 Managing large projects at BAE Systems Australia isn't for the faint-hearted. The challenges are varied, complex and testing. And they're different. Every day.
So when your ideas are listened to and you see them come to life, the experience is so much richer.
That works for me. Find out if it works for you.
Asset Performance Modeller
Develop and maintain system models for DDG Enterprise
Consultative and people focused approach, essential
Garden Island, Sydney location
The future is bright at BAE Systems. We have been selected as the Managing Contractor for the designated Guided Missile Destroyer (DDG) sustainment program and have an exciting opportunity to be a part of this new and innovative program. Highly collaborative and agile in approach, we are engaging, consultative and solutions focused and are looking for a likeminded System Simulation Modeller to join the team.
Reporting to the Senior Asset Performance Modeller, you will be responsible for the development and maintenance of allocated system models used by the designated Guided Missile Destroyer (DDG) Enterprise to simulate performance elements of the DDG ship Material System to support Asset Management planning activities.
You contribution to the team will include
Developing, maintaining and updating allocated simulation models associated with support of the Guided Missile Destroyers

Undertaking engineering activities in line with capability and without supervision 

Making engineering decisions within scope of responsibility and delegated authority

Maintaining closure of allocated activities to agreed standards and schedules

Analysing, interrogating, manipulating and reporting on supportability data

Liaising with customers and suppliers as required
As the ideal applicant, you will have
Significant experience with one or more system simulation modelling applications including: Life Cycle Cost Modelling, Operational Availability Modelling, Reliability Block Diagram Modelling, Sparing Analyses Modelling; and S&TE / Resources demand modelling 

Experience in the support and/or development of Logistics Information Management Systems (LIMS), Integrated Logistics Support (ILS) and attendant artefacts 

A working knowledge of and experience with industry performance modelling software and conduct of front end logistic support analysis activities and accrual accounting practices

The ability to build effective relationships with internal and external stakeholders to achieve business objectives

Demonstrated knowledge of the application of integrated logistics support, life cycle costing, logistics cost of ownership principles and the system engineering lifecycle

Proficiency in the use of a number of systems models and various analyses methodologies
As Defence security clearance is required for this role, applicants must be Australian citizens and eligible to obtain and maintain appropriate clearance.
International Traffic in Arms Regulations (ITAR) are applicable and as such, your nationality may be a factor in determining your suitability for this role.
Applications should be addressed to Polly Buerano, Recruitment Specialist. Please ensure you attach a current resume and copy of your relevant qualification(s) to your application. A cover letter is preferred.
At BAE Systems you will find support for training and development, competitive benefits and family friendly, flexible work practices in addition to a genuine commitment to diversity and inclusion.
Aboriginal and Torres Strait Islander people are encouraged to apply.
BAE Systems Australia employees are encouraged to refer others for employment in line with the conditions of the Employee Referral Scheme.
Further information regarding clearances is available at: https://careers.au.baesystems.com/opportunity.html
| | |
| --- | --- |
| | |