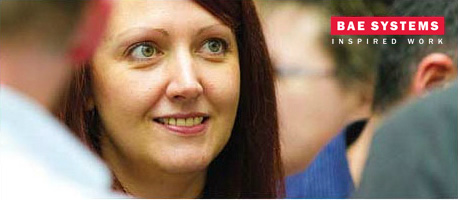 Working at BAE Systems Australia is a quick way to grow my career; different experiences, a variety of challenges and the chance to put my skills to the test.
However, the main reason it works for me is the lifestyle. It's friendly, flexible, accommodating and focused on my personal growth.
That works for me. Find out if it works for you.
Category Specialist
• Become a key member of one of our specialist procurement teams
• Use your subject matter expertise and grow your career
• Based in either Henderson, WA, Edinburgh Parks, SA or Melbourne, VIC

As the Category Specialist you will be responsible for the establishment and management of the appropriate contracting arrangements for consumables, industrial gases, personal protective equipment (PPE) and workwear, material handling equipment, lifting equipment, mobile equipment hire and others as required.

You will liaise with capable suppliers to deliver the cost, schedule, quality and safety requirements of the business, which, through relationship and performance management, maximises value and risk.

You will be specifically responsible for:

• The collaboration and engagement with key stakeholders to ensure whole of business alignment with decisions and strategies
• Adopting a 'total cost of ownership' philosophy
• Building a world-wide knowledge of the suppliers market, bringing innovation and change and new opportunities to the Australian and Global BAE Systems business
• Leveraging BAE Systems affiliate and global procurement skills, knowledge and resources
• Identifying and managing category risk, innovation and cost, and developing improvement strategies
• Generating value for the business through leaner methods of ordering, spend visibility, contracts, market insights, supplier driven innovation, demand management, collaboration with value generating suppliers, internal/external collaboration to maximise project and program delivery efficiencies
• Being the key contact with suppliers in the category
• Negotiating with suppliers
• Managing the supplier evaluation process
• Leading the supplier performance management and supplier competency development program, to improve overall suppliers' capability to meet company requirements
• Preparing and delivering category reports and presentations
• Actively contributing to the community of category specialists, managers and the wider procurement community

As the ideal applicant you will have:

• A proven background in procurement category management
• Experience in a complex, large and multi-disciplinary engineering or defence organization and able to work closely with internal customers to ensure arrangements are aligned with the business needs
• The ability to 'sell' procurement's value, building and promoting "best practice" processes and sourcing across the business
• The ability to travel interstate
• Excellent strategic thinking, communication and listening skills and confident, resilient and comfortable communicating at all levels
• Demonstrated change/project management experience with the ability to implement category management in a world class organisation

Whilst not essential, a degree qualification in procurement or a professional procurement qualification such as MCIPS will be highly regarded.

Applications should be addressed to: Lesley Mackman, Senior Recruitment Specialist

Please ensure you attach a current resume and copy of your relevant qualification(s) to your application. A cover letter is preferred.

Support for training and development, competitive benefits, a genuine focus on diversity and family friendly, flexible work practices are yours at BAE Systems Australia.

BAE Systems Australia employees are encouraged to refer others for employment in line with the conditions of the Employee Referral Scheme.

Further information regarding clearances is available at: https://careers.au.baesystems.com/opportunity.html
| | |
| --- | --- |
| | |